Web Intelligence and Visual Analytics

News and social media channels represent important interfaces to customers and stakeholders. The award-winning Web intelligence platform of webLyzard technology identifies opinion leaders and visualizes emerging trends across such online channels. It supports decision makers by identifying the latest trends and social perceptions in user-generated content. As part of the industry's most advanced communication success metric, these indicators provide a reliable benchmark of cross-media impact and brand reputation.

Decision Support for Government Agencies
Given the intense attention that online media channels attract these days, key questions for large organizations such as NOAA are how stakeholders perceive specific issues, how opinion leaders react to new insights, and how journalists present scientific knowledge to the public. The Web intelligence metrics and visual analytics tools of webLyzard technology have proved invaluable for addressing these questions.
Data-Driven Brand Communication
webLyzard's predictive capabilities represent a game changer in the field of corporate and brand communication. In a rapidly changing media environment, anticipating emerging topics is essential for communicators. Their role as core strategic advisors is reinforced and extended into the areas of product creation, innovation and organizational development. Knowledge about future events in the digital space provides a competitive advantage and empowers marketing and communication professionals to customize campaigns, conceive on-the-spot messaging and target specific audiences at exactly the right moment in time.
Web Intelligence Capabilities and Use Cases
The webLyzard slide deck summarizes the key features of the platform, introduces several reference projects including the Web intelligence application that our team developed for the United Nations Environment Programme (UNEP), and presents selected use cases ranging from data-driven brand communication to predictive analytics and semantic search for corporate publishing.
Web Intelligence Metrics and Visual Tools
To compute success metrics and measure social perceptions, webLyzard gathers multilingual content from a wide range of data sources. It then uses semantic technologies and opinion mining techniques to extract actionable business intelligence from these data sources. Communications directors, marketing managers, public outreach experts or chief information officers use this knowledge to improve the strategic positioning of their organizations. They conduct on-the-fly market research, for example, or benchmark recent campaigns to optimize their online communication strategies. A visual analytics dashboard shows through which channels their communication campaigns reach the intended target audiences. The Web intelligence tools of the dashboard provide a real-time account of topics that these target audiences associate with their organization's products and services.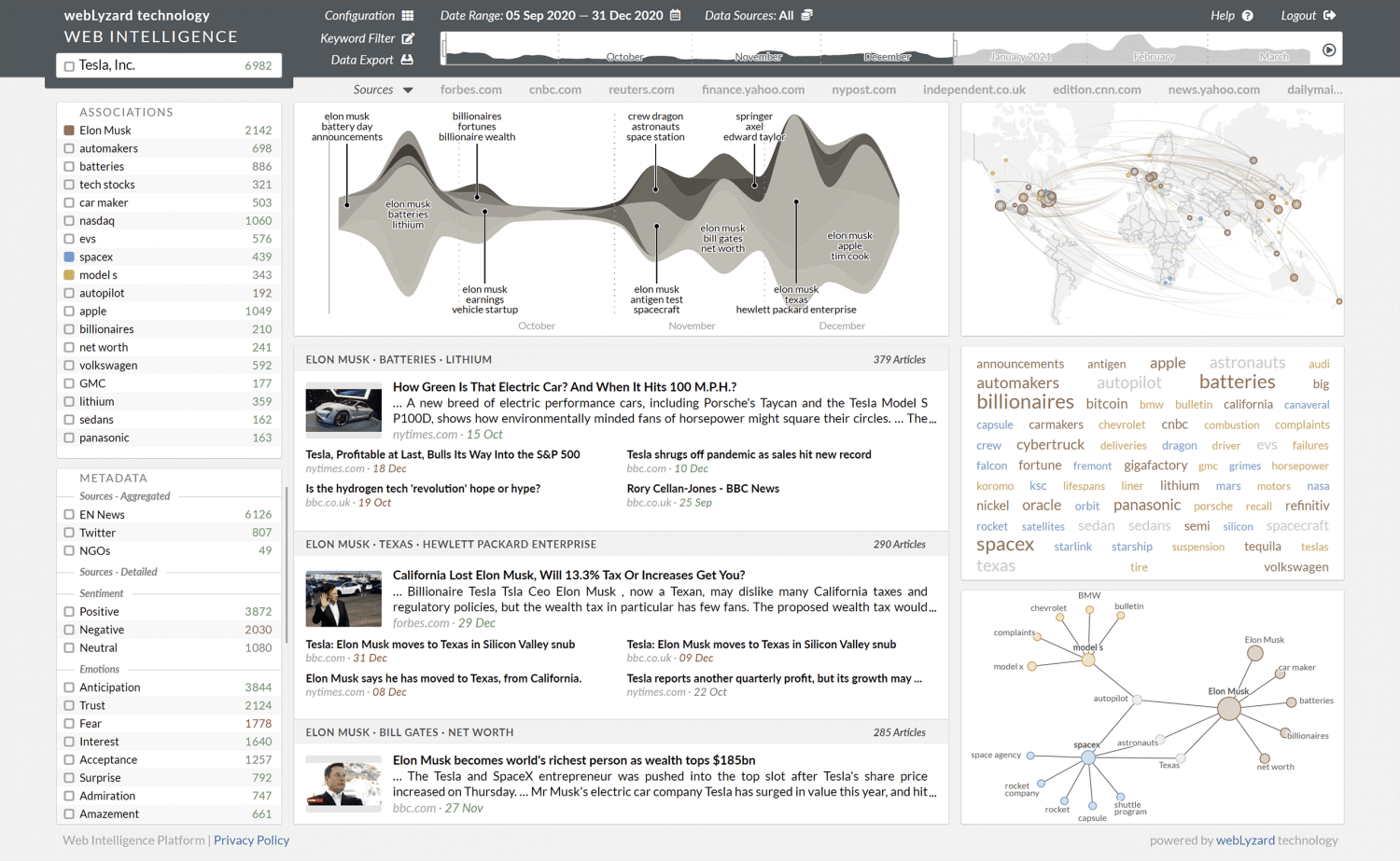 Screenshot of the webLyzard Web Intelligence Dashboard – Tesla Coverage, Sep-Dec 2020