Product Portfolio and Customization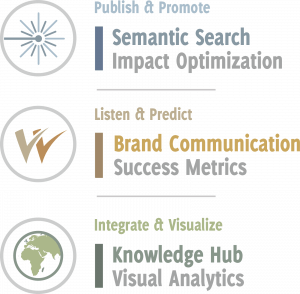 webLyzard offers a comprehensive portfolio of products along the entire digital content value chain, as outlined in the three sections below. The offered solutions are cloud-based and versatile. They range from text optimization and publishing tools to website search modules with embeddable visualizations to advanced media intelligence applications.
AI-powered annotation, summarization and prediction services are key enablers of these solutions. To enrich your existing applications and workflows, they are also available as stand-alone data products.
I. SEMANTIC SEARCH AND IMPACT OPTIMIZATION

Unleash the power of semantic technologies to increase the impact of your content. The webLyzard platform helps you to create the most compelling messages. It then provides AI-based prediction to identify opportunities for promoting these messages across channels. Once you have gained widespread attention, embedding webLyzard's enterprise search and visualization tools into your website enables visitors to quickly find the most relevant content. Amplifying the appeal of your website and virality of your postings has never been easier.
Optimize the wording of press releases and Web pages with Storypact
Context-aware text editor for collaborative content production
Cross-platform semantic search engine for corporate Web sites (compatible with the majority of CMS and enterprise portal technologies
Visual tools to present your content and enhance site navigation
High-performance synchronization of interface elements (100% JavaScript)
II. DATA-DRIVEN COMMUNICATION
Generate strategic insights and actionable knowledge from the public debate and stakeholder communication. webLyzard provides unique cross-lingual success metrics to measure the impact across news and social media channels. But we do not stop there. Real-time intelligence from a large number of corporate websites, NGOs, government sources and community platforms ensures a comprehensive and nuanced analysis of the public debate as it unfolds.
Communication success metrics for PR and public outreach activities
(in collaboration with Ketchum Publico)
Strategic positioning and topic identification
(measuring the sensitivity of topics, conflict detection and avoidance)
Impact optimization and reputation management
(brands, products and services, persons, organizations)
Early warning system (negative coverage)
Trend scouting (upcoming opportunities and emerging topics)
Comparison of self- and third-party perception
III. KNOWLEDGE HUB TECHNOLOGY
Unearth hidden resources and breathe life into your data using interactive visual tools. Highly scalable and modular, the webLyzard platform has the capability to process structured as well as unstructured data assets from a broad range of in-house and third-party sources. Using automated metadata enrichment in conjunction with evolving knowledge graph technology helps you to integrate, classify and visualize these data assets.
Analysis and visualization of large document archives
Visualisation-as-a-Service (VaaS) engine
Scalable annotation services – keyword labels, sentiment, etc.
Evolving knowledge graph technology
Distributed caching and indexing for low-latency applications
Gateway for public email communication (e.g., internal mailing lists)
Product Editions and Customization
Standard

Industry Solution
From EUR 750 per month
Includes news media coverage and five individual user logins; the monthly flat fee covers all new releases of the webLyzard platform as well as unlimited queries and topic definitions.
Professional

Complete Customization
Our most popular edition from EUR 1,250 per month
All standard features plus customized sources and relevance filters; advanced disambiguation and a range of add-on features – decision support tools, e-mail gateway, extended interface services, etc.
Enterprise

Administrator Privileges
and API Access
From EUR 2,500 per month
Direct access to the underlying knowledge base via an Application Programming Interface (API) to integrate webLyzard functionality into your own application(s).