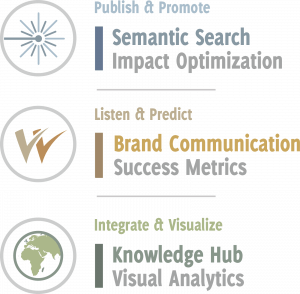 webLyzard offers a comprehensive portfolio of products along the entire digital content value chain, as outlined in the three sections below. The offered solutions are cloud-based and versatile. They range from text optimization and publishing tools to website search modules with embeddable visualizations to advanced media intelligence applications.*
AI-powered annotation, summarization and prediction services are key enablers of these solutions. To enrich your existing applications and workflows, they are also available as stand-alone data products.
I. SEMANTIC SEARCH AND IMPACT OPTIMIZATION

Optimize the wording of your press releases and Web pages with Storypact
Context-aware tools for collaborative content production
Cross-platform semantic search engine for corporate Web sites
(compatible with the majority of CMS and enterprise portal technologies
Visual tools to present your content and improve site navigation
High-performance synchronization of interface elements (100% JavaScript)
II. DATA-DRIVEN COMMUNICATION
Communication success metrics for PR and public outreach activities
(in collaboration with Ketchum Publico)
Strategic positioning and topic identification
(measuring the sensitivity of topics, conflict detection and avoidance)
Impact optimization and reputation management
(brands, products and services, persons, organizations)
Early warning system (negative coverage)
Trend scouting (upcoming opportunities and emerging topics)
Comparison of self- and third-party perception
III. KNOWLEDGE HUB TECHNOLOGY
Analysis and visualization of large document archives
Visualisation-as-a-Service (VaaS) engine
Scalable annotation services – keyword labels, sentiment, etc.
Evolving knowledge graph technology
Distributed caching and indexing for low-latency applications
Gateway for public email communication (e.g., internal mailing lists)
Product Editions and Customization
Standard

Industry Solution
From EUR 750 per month
Includes news media coverage and five individual user logins; the monthly flat fee covers all new releases of the webLyzard platform as well as unlimited queries and topic definitions.
Professional

Complete Customization
Our most popular edition from EUR 1,250 per month
All standard features plus customized sources and relevance filters; advanced disambiguation and a range of add-on features – decision support tools, e-mail gateway, extended interface services, etc.
Enterprise

Administrator Privileges
and API Access
From EUR 2,500 per month
Direct access to the underlying knowledge base via an Application Programming Interface (API) to integrate webLyzard functionality into your own application(s).
The product portfolio includes three product editions with a range of optional features including extended data services (social media, custom samples, e-mail gateway, permanent archive), interface services (advanced dashboard, email alert, data export), and decision support tools such as the brand reputation radar and the WYSDOM success metric.
* For this purpose, we capture, annotate and visualize large amounts of digital content from many different channels and stakeholders – news media, blogs, social media platforms such as Twitter, YouTube, Facebook and Instagram, the Web sites of corporations and NGOs or customized samples e.g. competitors, clients and partner organizations (see our Privacy Policy).