Horizon Europe is the European Union's flagship funding programme for research and innovation with a total budget of EUR 100 billion. The European Green Deal is a central element of this programme. It will provide clear pathways to achieving the Sustainable Development Goals (SDGs) while fostering growth and providing a competitive advantage for European industries. Horizon Europe also encourages a stronger involvement of citizens. This underscores the need for effective communication to convey the potential of research and innovation as enablers of societal change. Such change will be achieved through "missions" with clearly defined targets, for example in the health and environmental sectors.
Co-Creation and Engagement Cycle
webLyzard technology is an Austrian SME with extensive experience in European funding programs. Participating in 7th Framework Programme and Horizon 2020 projects helped to build and continuously extend a large-scale Web intelligence and visual analytics platform. The unique capabilities of this platform have been demonstrated in international sustainability applications. Our team developed the semantic search for the US Climate Resilience Toolkit for NOAA Climate.gov, for example, and the SDG Intelligence dashboard for the United Nations Environment Program. Embedded into the Co-Creation and Engagement Cycle shown in the following figure, these technologies help to better understand the public debate and boost the impact of a project across stakeholder groups.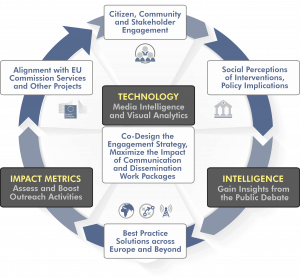 Roles in Horizon Europe Projects
Based on a strong track record and its comprehensive portfolio of information services, webLyzard can add value to different types of Horizon Europe projects (RIA, IA, CSA) in several roles:
Technology Partner. In RIAs or IAs we collaborate to jointly advance the state of the art in our core R&D areas. These areas include semantic data integration and visualization, as well as knowledge extraction from online media coverage and big data archives. This covers factual knowledge, for example named entity detection and knowledge graph evolution. In terms of affective knowledge, our opinion mining research covers both sentiment analysis and emotion detection.
Data Provider. We operate a comprehensive content processing stack including a high-performance Web crawling architecture. Our data ingestion components capture user-generated content from Web-based online communities including blogs, forums, local democracy platforms, etc. They also aggregate social media content from Twitter, Facebook, Reddit, YouTube, Vimeo and Dailymotion.
System Integrator. We provide a flexible REST API (Application Programming Interface) framework to integrate data streams from heterogeneous sources. The framework synchronises components across technical tasks and work packages. For this purpose, we deploy and host a highly scalable infrastructure. This includes relational databases, triple stores and distributed caching and search applications.
Dissemination and Communication. We develop novel communication success metrics and content optimization tools that go beyond traditional dissemination strategies. This helps to maximize the impact among citizens and professional stakeholder groups alike. We host high-performance Websites and manage social media channels through our own in-house team or in collaboration with our strategic partner Ketchum Publico.
https://www.weblyzard.com/data/sites/21/horizon-europe-2021-2027-logo.png
280
280
Arno Scharl
https://www.weblyzard.com/data/sites/21/weblyzard-logo-2020.png
Arno Scharl
2021-02-08 22:46:10
2021-04-19 14:25:44
Horizon Europe and the Green Deal