Horizon Europe Dissemination
Horizon Europe is a highly competitive funding scheme. Successful proposals not only need innovation and scientific excellence. They also have to demonstrate their societal and economic impact to achieve the score required to get funded. Now that the new concept of Key Impact Pathways (KIPs) is a core part of every proposal, Dissemination and Exploitation strategies have become key mechanisms to implement those KIPs. They need to convincingly outline how the project will achieve the expected outcomes as per the work programme.
Are you looking for a strong Dissemination, Exploitation and Communication partner? Interested how the co-creation and engagement cycle and the other D&E&C instruments outlined below can amplify the impact of your work? Then we'd love to hear from you to discuss a joint Horizon Europe submission.
Impact Optimization Framework
Embedded into an iterative Co-Creation and Engagement Cycle, the knowledge extraction and visual analytics platform of webLyzard helps to better understand the public debate and boost the impact of a project across stakeholder groups. The platform provides a rich portfolio of services, customized to support the D&E&C activities of Horizon Europe projects.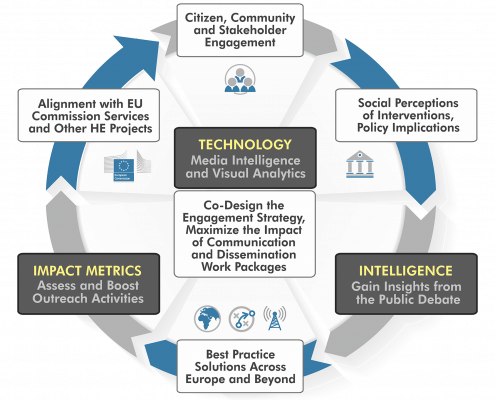 Horizon Europe Dissemination: Co-Creation and Engagement Cycle
Successful Horizon Europe projects require comprehensive and innovative approaches to maximize their impact. The following paragraphs summarize the major pillars of such an approach, including a description of services that webLyzard technology provides.
Dissemination, Exploitation and Communication Plan
Horizon Europe does not require a full-fledged D&E&C Plan at the proposal stage. However, projects have to provide one within the first six months of the project. Such a plan includes communication and engagement activities to promote the project and its outcomes. The goal of these activities is to raise visibility across a wide range of channels and target audiences. This ensures that European stakeholders and the public learn about the advances and appreciate the value of research outcomes.
Publishing Strategies for Scientific Dissemination
The semantic search and visualization capabilities of the webLyzard platform make articles more accessible. They help to seamlessly integrate the scientific output into the project Website and use case applications. A good example of this functionality is the Visual Navigator developed for the Climate.gov site of the US National Oceanic and Atmospheric Administration (NOAA).
To translate scientific excellence into impact, projects have to publish refereed articles in leading journals and conference proceedings. Community portals such as Zenodo and ResearchGate can act as multipliers when promoting these articles. European Commission services also offer dissemination channels including OpenAIRE, Open Research Europe and the European Open Science Cloud, Cordis Wire and the Horizon Magazine.
Business Innovation Ecosystems
Successful D&E&C requires a consistent long-term vision. The strategic positioning of a project has to reflect this vision. It should also guide active networking with various stakeholders groups. Such focused engagement throughout the entire duration of the project aligns the work with the evolving requirements of future potential technology adopters. Hence it sets the stage for the transition between funded project and post-project exploitation.
Business innovation ecosystems serve as multipliers that increase visibility and promote an early adoption of results outside the consortium. For this purpose, a combination of virtual and real-world instruments is most effective:
Collaboration and Co-Creation Platforms not only streamline the internal communication of a project. They also play a central role in many use cases that rely on citizen deliberation and stakeholder engagement. In several past projects we have demonstrated the potential of embedding webLyzard's metadata enrichment and visualization services into collaborative platforms. They enable new forms of collaboration and bring together communities of practice across regions and platforms.
Workshops and Exhibits. Vienna not only offers a rich cultural context but also all the required infrastructure and services for successful workshops and exhibits. Located in the heart of Europe, the Austrian capital is well-connected to all major European cities. To facilitate the planning and successful management of stakeholder workshops, our team includes experienced event organizers. In addition, close ties exist to several of Austria's most well-known B2B and B2C event and tourism agencies.
Innovation Management
To guide development efforts and manage the Intellectual Property (IP) of a project, the consortium requires timely and accurate feedback from external sources. Web intelligence provides such feedback by continuously monitoring the relevant technology and market trends. Thereby, it helps to identify new ideas and enhance the project's innovation capacity. The resulting data and content repositories of webLyzard are reflected in the Data Management Plan (DMP). Such a DMP should always cover the entire data lifecycle. Its provisions have to ensure the project's strict compliance with the General Data Protection Regulation (GDPR) and the recommendations of the Open Research Data Pilot (ORDP).
Building on these technology scouting capabilities, a market-watch strategy reports notable developments to the project's steering group in regular intervals. This enables the Coordinator and Innovation Manager to make timely adjustments to the development roadmap. The gathered intelligence not only helps them to promote the project, but also to align the pilot applications and use cases with the latest market trends. In turn, this supports industry partners in their efforts to refine the exploitation plan. They gain accurate feedback on the positioning of products and services, for example, which helps them chart a credible path to translate radical innovation into marketable products.
Communication and Stakeholder Engagement
The social listening capabilities of the webLyzard platform make stakeholder communication more transparent and help to optimize public relations and outreach materials. This data-driven approach to communication includes press releases, electronic newsletters and regular postings on the project's Web and social media channels:
Project Website and Visual Identity are typically developed within the first three months. The website is an evolving reflection of ongoing activities and achievements. It includes a repository of open documents, for example press releases, deliverables or training materials. Site development goes hand in hand with the design of the logo and professional templates for external communication. Search Engine Optimization (SEO) is another important aspect to consider. webLyzard's Storypact technology increases visibility and creates widespread attention across target groups. Moreover, high-performance site deployment and Web Vitals optimization result in 95%+ scores for performance, accessibility, best practices and SEO metrics.
Social Media Channels. An active presence on Twitter, Linkedin and Facebook shines a light on the project right from the start. The technology stack of webLyzard plays a key role in achieving social media impact, e.g. by leveraging the content optimization and social media listening capabilities of its platform.
Video Tutorials underscore the value of project results and explain how different target groups can benefit from them. We produce high-quality screencasts in 4k resolution and employ professional voice over artists. Multi-channel promotion makes use of the project Website, video sharing platforms such as Vimeo and YouTube as well as research results platforms hosted by the European Commission.
Impact Evaluation and Benchmarking
The webLyzard Stakeholder Dialogue and Opinion Model, or WYSDOM, is a real-time impact and communication success metric that was initially developed for the U.S. Department of Commerce. The Horizon 2020 Project ReTV significantly extended the underlying model. WYSDOM supports Horizon Europe dissemination through a seamless integration of content and audience metrics. This goes far beyond standard metrics such as page views, likes and followers. Moreover, the system visualizes these metrics. This shows how communication activities reinforce the intended positioning. The results can benchmark not only to the project itself, but also the use cases and brands of project partners.


WYSDOM Impact and Communication Success Metric
Managing Horizon Europe dissemination work packages is just one of the roles that webLyzard can take over. For an overview of our core research areas as well as successful reference projects in the sustainability domain, please refer to our dedicated page on Horizon Europe and the Green Deal.
https://www.weblyzard.com/data/sites/21/horizon-europe-dissemination-logo.png
280
280
Arno Scharl
https://www.weblyzard.com/data/sites/21/weblyzard-logo-2020.png
Arno Scharl
2021-03-25 23:32:28
2021-05-27 10:48:06
Horizon Europe Dissemination