web·Lyz·ard ['web'li-z&rd]
Web Intelligence und Medienanalyse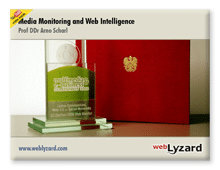 webLyzard bietet ein umfassendes System zur automatisierten Analyse von Online-Medien und liefert wertvolle Indikatoren für die strategische Positionierung einer Organisation. Darüber hinaus werden PR und Marketing-Aktivitäten durch Präsenz- und Imagestudien, Werbeerfolgskontrollen und Trendanalysen effektiv unterstützt. Dokumente und User-Kommentare aus den unterschiedlichsten Bereichen werden in Echtzeit erfasst und verarbeitet. Die umfangreiche Liste von Informationsquellen umfasst Nachrichtenmedien Blogs, Web 2.0 Plattformen (Facebook, Twitter, Google+, YouTube, Vimeo, etc.) und die Web Sites von Unternehmen und NGOs.
Eine visuelle Benutzerschnittstelle mit interaktiven Trend-Charts zeigt, wo und wie oft berichtet wird, ob die Berichterstattung positiv oder negativ ist, und welche Themen mit einer Organisation, einem Produkt oder einer Person assoziiert werden.
Anwendungsbeispiele
Die Wissensbasis und die Technologien von webLyzard beruhen auf mehr als zehnjähriger Forschungs- und Entwicklungsarbeit und wurden unter anderem für ein öffentliches Klimawandel-Portal und für die Medienanalyse des US-Wahlkampfs erfolgreich eingesetzt:
Das positive Feedback von bedeutenden Referenzkunden in Europa und den Vereinigten Staaten dokumentiert die Leistungsfähigkeit des Systems. Zu den Auftraggebern gehören beispielsweise die Wirtschaftskammer Österreich, die Vereinten Nationen, das NOAA Climate Program Office (U.S. Department of Commerce) oder das National Cancer Institute (U.S. Department of Health and Human Services).
"Big Data in der Praxis | Web und Social Media Intelligence am Beispiel des webLyzard Finanz-Monitors", Vortrag beim EMC FORUM 2012 am 4. Oktober in Wien (YouTube, 24 min.)
Technologien im Detail
webLyzard bietet ein breit gefächertes Portfolio, um elektronische Inhalte zu analysieren und die Ergebnisse mit Hilfe visueller Verfahren übersichtlich darzustellen. Alle Komponenten sind mehrsprachig konzipiert und daher auch zur Analyse deutschsprachiger Inhalte hervorragend geeignet. Leistungsfähige semantische Suchfunktionen identifizieren relevante Texte und ermitteln inhaltlich oder geographisch ähnliche Dokumente. Wissenslandkarten erlauben es, die wichtigsten Themen in umfangreichen Dokument-Archiven auf den ersten Blick zu erkennen. Hierarchische Netzwerk-Visualisierungen erlauben Rückschlüsse auf die Bedeutung und Interpretation dieser Themen innerhalb bestimmter Zielgruppen.
Neben der aktuellen Bedeutung von Themen (Häufigkeit der Nennung) wird auch die Valenz von Medienberichten im Sinne eines Stimmungsbarometers automatisch berechnet. Das System bestimmt, ob Themen in einem positiven oder negativen Licht dargestellt werden, und ob es hinsichtlich der Meinungen zu diesen Themen starke Schwankungen gibt. Durch eine solche Medienanalyse erhält der Auftraggeber ein leistungsfähiges Werkzeug, um die Wirkung von Öffentlichkeitsarbeit und Marketing-Maßnahmen zu beurteilen. Durch gezieltere Kommunikation mit klar definierten Zielgruppen ermöglicht webLyzard eine Reduktion von Streuverlusten und effizientere Nutzung von Ressourcen, unabhängig von der Größe der Organisation.
Die Medienanalyse von webLyzard unterstützt die gezielte Erfassung von Dokumenten und User-Kommentaren, um Trends zu erkennen und die Berichterstattung von Zielgruppen zu vergleichen. Die semantische Verarbeitung von Dokumenten erlaubt diese zu beschlagworten, geographisch zuzuordnen, und positive und negative Kommentare automatisch zu unterscheiden. Relevante Trends und inhaltliche Zusammenhänge werden mittels interaktiven Methoden zur Visualisierung von Wissensarchiven rasch und zuverlässig erkannt.