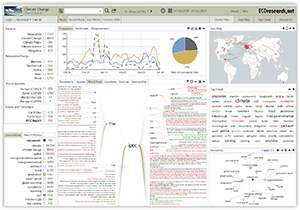 Raising awareness and sharing knowledge are crucial steps in addressing environmental issues. To support these steps and investigate new forms of communication and collaboration, the Media Watch on Climate Change collects, filters, annotates and visualizes documents from a range of English, French and German online sources (news media, social networking platforms, Web sites of Fortune 1000 companies and environmental organizations).
The portal represents a comprehensive and continuously updated knowledge repository on climate change and related environmental issues. The dashboard provides interactive means to access this repository, analyze stakeholder perceptions, and track emerging trends.
Based on webLyzard core technologies and recently updated to the 2014-06 release (Eastern Fence Lizard), the system has been developed as part of a series of research projects. It is currently extended into a knowledge co-creation platform through DecarboNet, a three-year project funded in the European Union's 7th Framework Program.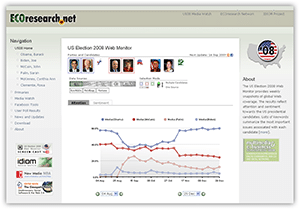 How do international news media, blogs, the Fortune 1000 and environmental organizations tailor electronic content to fit their political agenda? To answer this question, the US Election 2008 Web Monitor processed hundreds of thousands of documents in weekly intervals. Estimates of attention and sentiment towards the presidential candidates complement keywords to indicate trends and identify topics associated with each candidate.
Platform and Application Overview
The following SlideShare presentation gives an overview of the webLyzard platform, including decision support and knowledge management applications based on external and/or internal data repositories.