Westeros Sentinel – Game of Thrones Analytics
Unpredictable characters, political intrigues and complex social relations are key ingredients behind the success of HBO's fantasy series Game of Thrones. An active exchange on social media results in heated online discussions among the fans of the series. With Westeros Sentinel, webLyzard provided PDF reports and a visual dashboard to explore the online dialog. Updated ahead of the series' eights and final season, the system is named after the fictional continent Westeros, which is home to the capital and a central hub of the storyline.
Westeros Sentinel uses the webLyzard Web intelligence platform to better understand viewer engagement by analyzing user-generated content streams. We have chosen the popular television series Game of Thrones as a showcase, because it has established a reputation for lively and animated discussions via social media platforms. The system aggregates postings from these platforms in real time. It also contrasts them to the latest news articles. Text mining methods then determine the sentiment of comments about fictional characters. To analyze this sentiment, an interactive dashboard provides trend charts and other visual analytics tools. New innovations from the ReTV research project help to continuously improve these tools.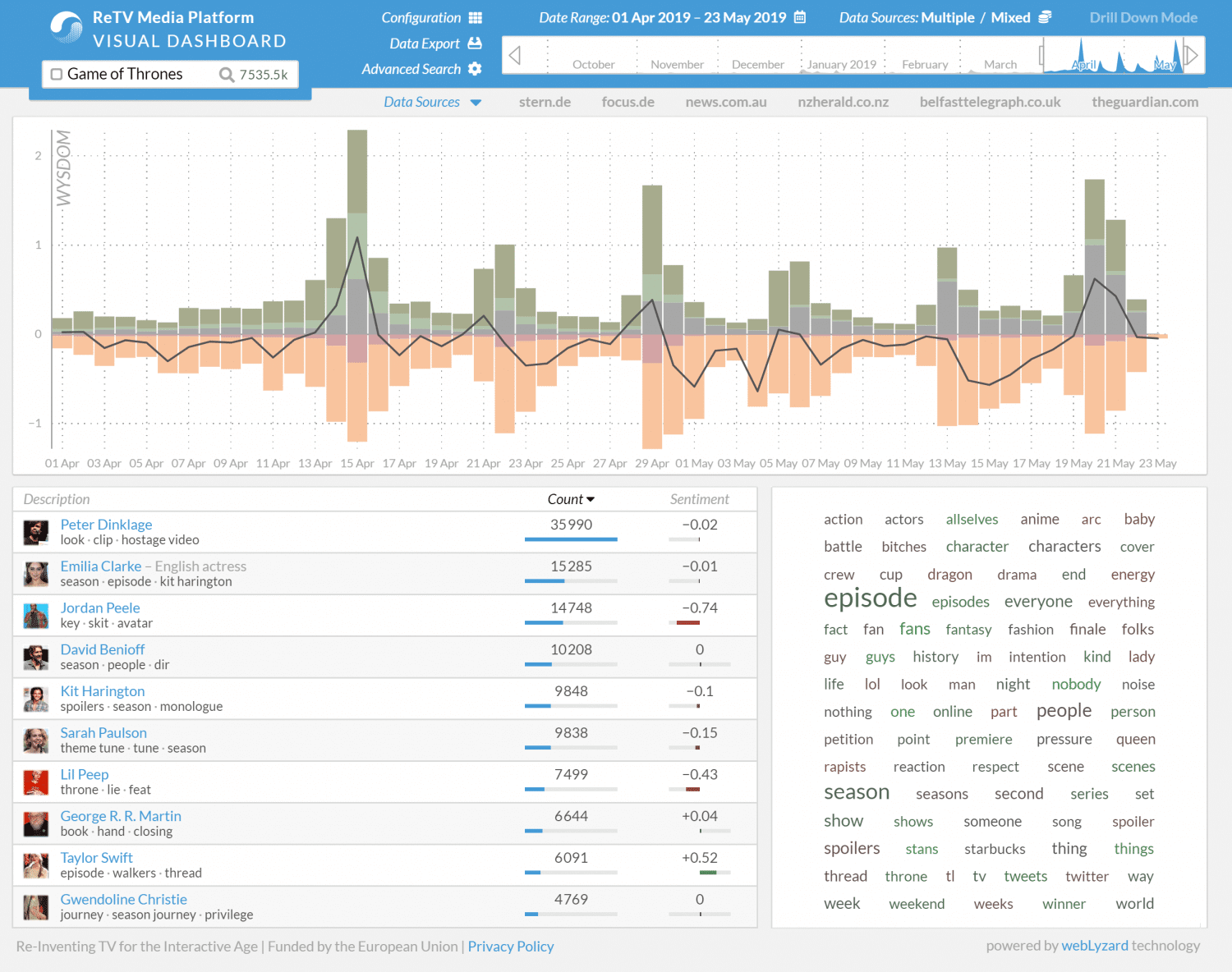 Measuring Viewer Engagement with Westeros Sentinel
The platform addresses changes in the media landscape, e.g. the significant impact of social media on the viewing experience. Television programming professionals no longer measure the success of a show such as HBO Game of Thrones merely by the size of the audience, but rather by engagement. Social media allow audiences, critics, actors, producers, and marketers alike to share their experiences.  They can discuss important events, for example, express views and provide interpretations.
Westeros Sentinel captures this social engagement around Game of Thrones. The goal is to provide valuable insights into evolving viewer perceptions and opinions. For this purpose, advanced text mining tools provide an unprecedented level of transparency about emerging trends. They reveal how new plot elements trigger and shape discussions, for example, or how real-world events such as an actor's public appearance at an award ceremony affect viewer sentiment.
Visual Tools to Analyze the Online Dialog
The webLyzard dashboard customized for Westeros Sentinel goes beyond simple charts and statistical representations. Multiple coordinated view technology supports different types of information seeking. This includes random browsing as well as focused searching and trend monitoring. Real-time synchronization mechanisms help to analyze and organize the extracted knowledge. The dashboard not only shows how often viewers mention fictional characters, but also highlights concepts that the audience associates with the unfolding storyline of each new episode.
References
Scharl, A., Hubmann-Haidvogel, A., Jones, A., Fischl, D., Kamolov, R., Weichselbraun, A. and Rafelsberger, W. (2015). "Analyzing the Public Discourse on Works of Fiction – Automatic Emotion Detection in Online Media Coverage about HBO's Game of Thrones", Information Processing & Management, 52(1): 129-138.
Scharl, A., Hubmann-Haidvogel, A., Sabou, M., Weichselbraun, A. and Lang, H.-P. (2013). "From Web Intelligence to Knowledge Co-Creation – A Platform to Analyze and Support Stakeholder Communication", IEEE Internet Computing, 17(5): 21-29.
---
The Westeros Sentinel is based on the (2018-12 release) of the webLyzard platform. It is not sponsored by or affiliated with HBO or any other organization involved in the production of the Game of Thrones television series.
https://www.weblyzard.com/data/sites/21/westeros-sentinel-hbo-game-thrones.png
300
300
Arno Scharl
https://www.weblyzard.com/data/sites/21/weblyzard-logo-2020.png
Arno Scharl
2019-05-23 14:00:36
2021-05-03 21:40:13
Westeros Sentinel – Game of Thrones Analytics