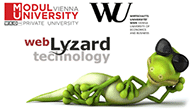 Web Intelligence and Visual Analytics
Researchers and Software Developers
(Vienna, Austria)

Position Announcement (PDF, 590 kb) – April 2015
Participate in award-winning international research projects and become part of a dynamic and interdisciplinary team. Closely working together with other researchers with a passion for developing novel solutions to challenging technical problems, you will collaboratively advance the state of the art in one or more of the following disciplines:
Web Intelligence, Information Visualization, Big Data, Semantic Search Technologies, Distributed Computing and Linked Data.
The Department of New Media Technology of MODUL University Vienna and the Research Institute for Computational Methods of Vienna University of Economics and Business offer R&D and PhD Candidate positions, part‐ or full‐time. Innovations from our research projects enable novel showcases such as the Media Watch on Climate Change and the semantic search of the U.S. Climate Resilience Toolkit.
Essential Qualifications
Strong Analytical Skills and Extensive Software Development Experience
(preferably in Python, Java, or JavaScript)
Desired Qualifications :: Focus Area 1, Big Data and Distributed Architectures
Information Retrieval and Semantic Search (Elasticsearch)
Relational Data Modeling and PostgreSQL Optimization
Deployment and Monitoring of Distributed Architectures (Docker, Nagios)
Linux Server Administration, Network and Server Security (Ubuntu)
Desired Qualifications :: Focus Area 2, Metrics and Visual Analytics
Dashboards for Information Exploration and Web Intelligence Applications
Dynamic Web Technologies (JavaScript, jQuery, HTML5)
Information Visualization (D3.js, WebGL)
Decision Support and Communication Success Metrics
The positions remain open until filled (salary levels follow the guidelines of the Austrian Science Fund). MU Vienna and VUEB are equal opportunity employers and strongly encourage qualified women to apply. Please send your complete application including cover letter, curriculum vitae and academic transcript to maximilian.lang@modul.ac.at (in English or German; preferably as a single PDF file not exceeding 8 MB).