A team of European researchers has developed the US Election 2020 Web monitor to track the public debate and the candidates' performance on the campaign trail. Real-time analyses of online coverage based on the webLyzard Web intelligence platform reveal opinion leaders, shed light on events that impact the coverage and help compare stakeholder perceptions.
Try out the dashboard at  us2016.weblyzard.com
Like no other presidency in recent history, Donald Trump's period of office has polarized the electorate and the resulting news and social media coverage. Heated online discussions reflect the prevalence of filter bubbles and echo chambers in the global dialogue. Web intelligence technologies are uniquely positioned to analyze such phenomena. While the influence of social media is not novel, in the 2016 and 2020 election cycles the Twitter postings of the candidates themselves have become key moments that shape the public debate for days and weeks. Recent events such as the impeachment trial and the COVID-19 pandemic introduce additional uncertainties, amplified by statements from both sides that keep fueling the online discussions.
Public Debate on the US Election 2020
How is this unusual presidential race perceived by citizens and stakeholders? To answer this question, the US Election 2020 Web Monitor analyses social media postings and the articles of international news media. Processing these content streams yields more than 25 million relevant documents per month. Automated knowledge extraction services then classify and enrich the collected documents: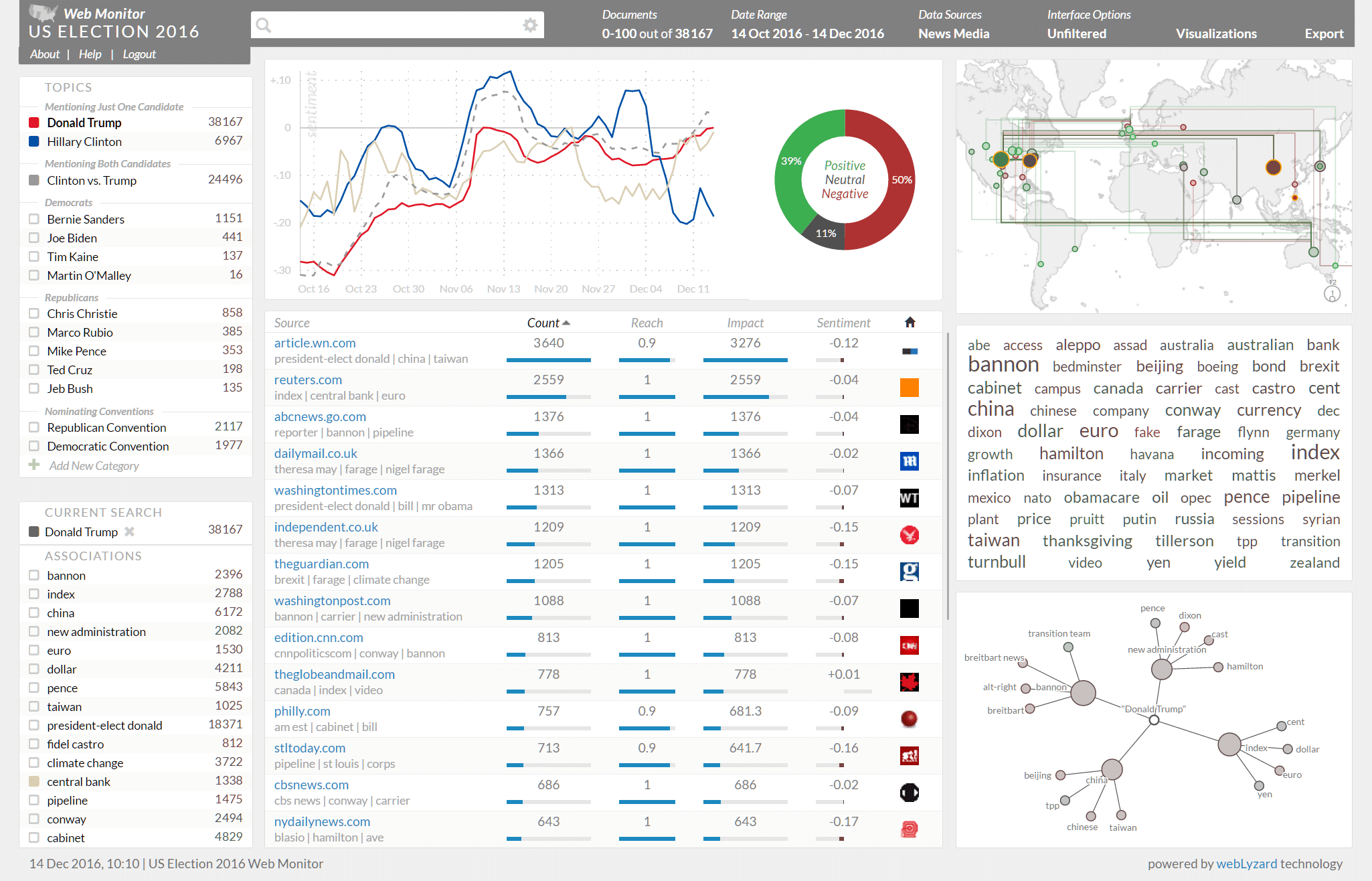 International Research Collaboration
The US Election 2020 Web Monitor is jointly pursued by researchers of MODUL University Vienna, webLyzard technology and HTW Chur in Switzerland, who have a long history of successful collaboration. In 2008, a monitoring application for the US presidential election won the "Online Communities, Web 2.0 and Social Networks" category of the Austrian National Award for Multimedia and e-Business. Eight years later, in June 2016, the US Embassy Vienna organized a joint presentation of Prof. Hans Noel from Georgetown University and webLyzard's Managing Director, Prof Arno Scharl, to launch the US Election 2016 Web Monitor. In October 2016, the system featured in a TEDx talk on "Analyzing the Digital Talk: Visual Tools for Exploring Global Communication Flows" (see references below).
The underlying technologies and the visual dashboard are continuously being extended within the context of major EU research projects funded within the Horizon 2020 programme (InVID, ReTV, EVOLVE and InDICEs).
References
https://www.weblyzard.com/data/sites/21/us-election-2020-web-monitor-logo.png
280
280
Arno Scharl
https://www.weblyzard.com/data/sites/21/weblyzard-logo-2020.png
Arno Scharl
2017-12-12 11:19:27
2020-03-15 19:19:50
US Election 2020 Web Monitor